Masurenfuerst (Trak)
16.0hh - Chestnut - 1999 - Approved Trakehner Verband - Registered IHR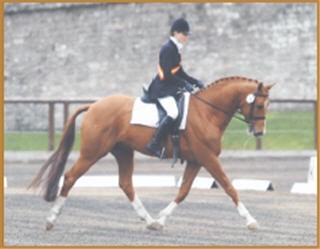 Masurenfuerst is a very attractive horse with exceptional paces.
All quality, he will be an addition to any breeding programme.
Masurenfuerst is Approved by the British Trakehner Fraternity.
He was Champion of the NaSta performance Test 2005 where he gained the highest marks for jumping and was awarded Elite Performance status.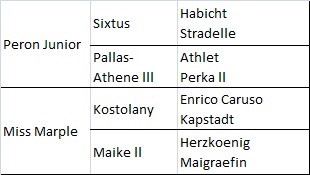 Masurenfuerst has an exceptional pedigree, inundated with performance.
Peron Junior was successful at the highest level in Dressage.
Sixtus, showjumped internationally and has one of the highest jumping indices of any Trakehner stallion.
Miss Marple is by the world renowned Kostolany, who has several Approved sons including Gribaldi and is well known as a sire of mares.
Maike ll is the dam of the graded stallion Maestro.
Masurenfuerst gained 5 points in his only season eventing.
In his first season in dressage, he won the Preliminary Championship at the Necarne Festival and also at the N.I. Dressage Finals.
Winner at Elementary and Medium level.
Masurenfuerst accumulated 107 DI points
Masurenfuerst's progeny inherit his quality, exceptional movement and athleticism.
They are making their mark in the dressage arena and in eventing –
Silken Art, Silken Fuerst, Michel M
Silken Creme - multiple winner Eventing and dressage UK